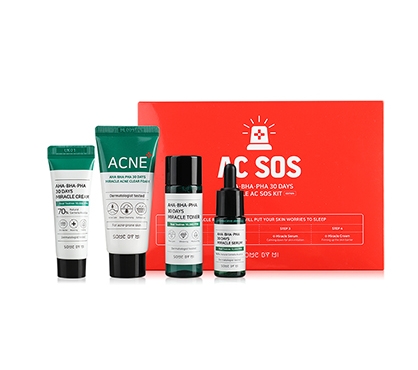 Some By Mi – Aha Bha Pha 30 Days Miracle Ac Sos Kit
₦7,196
This AHA, BHA, PHA 30 Days AC SOS Kit consists of:
Miracle Acne Clear Foam 30ml
Miracle Toner 30ml
Miracle Serum 10ml
Miracle Cream 20g
Benefits:
Skin Irritation Test completed.
4 steps of AC line products for urgent skin care.
With AHA to exfoliates skin impurities and dead skin cells.
With BHA to removes skin dirt and sebum inside the pores.
With PHA to dissolves dead skin cells for non-irritating exfoliation.
Free of 20 harmful ingredients. Formulated with natural-derived ingredients.Clear Foam:
Cleanses skin impurities inside the pores and removes excessive sebum.
It is proved to have the function of alleviating Acne-Prone skin.Miracle Toner:
Soothes irritated skin while gently removing dead skin cells.
It has completed the 'Suitable for Acne-Prone Skin Test'.Miracle Serum:
Soothes irritated and problematic skin.
Offers oil-moisture care by optimises the ratio of water & oil.Miracle Cream:
Moisturises skin and strengthens skin barrier.
Protects skin with 4-Cica Care from the external aggressors.
Sorry, due to limited stock, Some By Mi - Aha Bha Pha 30 Days Miracle Ac Sos Kit is restricted to 3 per customer. This restriction would be lifted once we restock.
Out of stock
Description
Angry Skin Emergency Care AC S.O.S Kit
If your skin got a sudden problem without a chance to do something about it, meet emergency calming care item, 'AC S.O.S Kit'. An effective 4 steps skincare, contained with AHA, BHA, PHA, will help calm the irritated skin right away.
APPLICATION
First, cleanse out the excessive sebum and impurities with Miracle Acne Foam. Then, soak the cotton pad with Miracle Toner and wipe the skin to refine flaky dead skin cells.
Now, we have one last step to calm irritated skin and strengthen the skin barrier. Soothe the skin all the way to the end with Miracle Serum contained with Teatree Leaf Water, and Miracle cream contained with the core agent of Centella Asiatica, '4-CICA CARE', to make a strong skin that doesn't easily become sensitive.
Additional Info
| | |
| --- | --- |
| Weight | 0.18 kg |
| Ingredients | Niacinamide, Salicylic Acid |
| Specific Concerns | Acne & Blemishes |
Reviews
Only logged in customers who have purchased this product may leave a review.