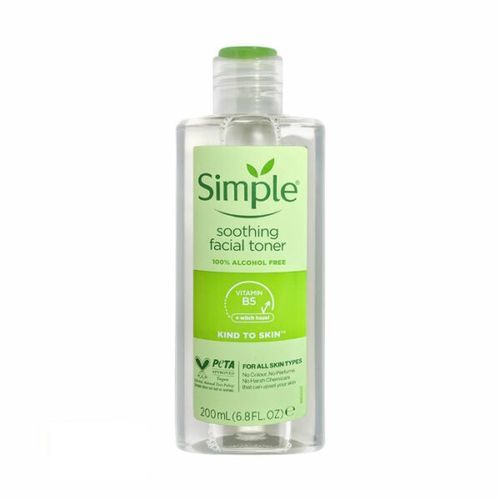 Simple Kind To Skin Soothing Facial Toner 6.8fl oz (200ml)
₦4,500
Simple Soothing Facial Toner is a light, alcohol-free toner that cleans and refreshes skin without irritation or overdrying. It contains no alcohol, dyes, artificial perfumes, or other irritants, so it's gentle and suitable for all skin types, especially sensitive skin. This Simple Toner holds on to the moisture that already exists naturally in your skin while smoothing the skin's texture and refining your pores. It also is packed with Vitamins and skin-loving ingredients. The combination of Chamomile, Witch Hazel, Allantoin and Vitamin B5 provide the perfect Facial Toner to give you the softest skin possible.Simple Soothing Facial Toner enhances your skincare routine with a gentle yet effective toner formula. The toner works to balance your skin's natural pH level, plus it can smooth skin's texture by minimizing pores. With Simple Facial Toner, your skin keeps its natural hydration while also better absorbing any moisturizer you apply. The toner cleans your skin of residue or impurities that cleansers may leave behind, using ingredients that are gentle and perfect for sensitive skin.Simple is a complete range of facial skincare products perfect even for sensitive skin. The Simple brand knows that what is left out is as important as what is put in when it comes to gentle, yet effective skincare. The complete Simple range has 18 products, including cleansers, moisturizers, eye care, and wipes. All Simple products have no dyes, artificial perfumes or harsh irritants that can upset skin and contain skin-loving ingredients and added vitamins for natural, healthy-looking skin. Simple products are hypoallergenic, non-comedogenic and pH balanced.
Sorry, due to limited stock, Simple Kind To Skin Soothing Facial Toner 6.8fl oz (200ml) is restricted to 3 per customer. This restriction would be lifted once we restock.
In stock
Description
INGREDIENTS Water (Aqua, Eau) (Solvent), Poloxamer 184 (Emulsifier), Butylene Glycol (Humectant), PEG-20 Glyceryl Laurate (Emulsifier), Ceteth-20 (Emulsifier), Panthenol (Pro-Vitamin B5), Ascorbic Acid(Skin Conditioning), Laureth-23 (Emulsifier), DMDM Hydantoin (Preservative), Disodium Phosphate (Buffering Agent), Sodium Phosphate (Buffering Agent), Calcium Disodium EDTA (Chelating Agent), Iodopropynyl Butylcarbamate (Preservative), Citric Acid (Buffering Agent) APPLICATION After cleansing, apply Simple Soothing Facial Toner to a cotton round and wipe in gentle upward movements over skin morning and night. To finish, apply the Simple moisturizer of your choice.
Additional Info
Reviews
Only logged in customers who have purchased this product may leave a review.