Sorry, due to limited stock, Medix 5.5 Argan Oil + Shea Butter is restricted to 3 per customer. This restriction would be lifted once we restock.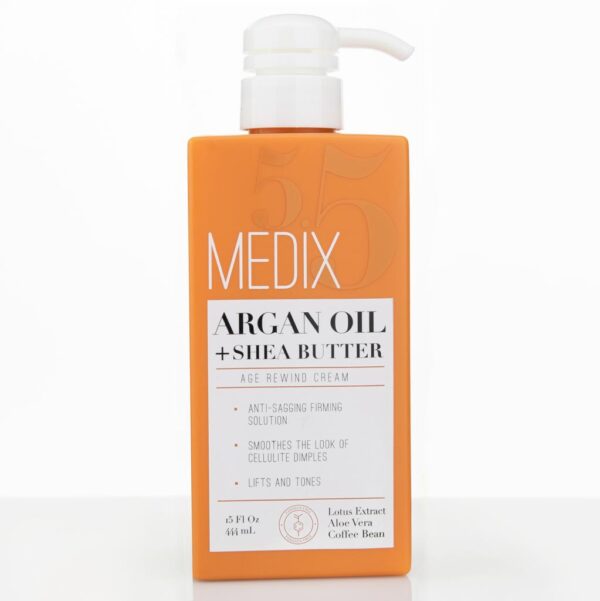 Medix 5.5 Argan Oil + Shea Butter
₦10,800
  If your skin is dry, acne-prone, wrinkled, generally lacks luster then it is time to learn about pH balances and their effect on your skin. The key to beautiful skin is to maintain a healthy skin barrier with a pH of 5.5. Medix 5.5 promotes smooth, firm, healthy looking skin by reducing roughness and supporting a strong skin barrier that holds moisture and keeps pollutants out. Made with skin-plumping miracle Collagen extracts that improve elasticity and skin tone. Complements effects of cosmetic procedures by reducing the signs of aging such as sagging skin, fine lines, and wrinkles. Infused with Peptides, Aloe Vera, and Green Tea to protect the skin while leaving your skin feeling hydrated and supple. Reduce wrinkles and improve your skins elasticity by moisturizing your skin every day. Our dual component moisturizer contains Omega 3 fatty acids. By mixing Collagen and Caviar, you can improve the tone and texture of your skin. Nourish, soothe, and protect your skin while reducing fine lines and wrinkles.
Out of stock
Additional Info
| | |
| --- | --- |
| Weight | 0.535 kg |
| Specific Concerns | Dry and Cracked |
Reviews
Only logged in customers who have purchased this product may leave a review.