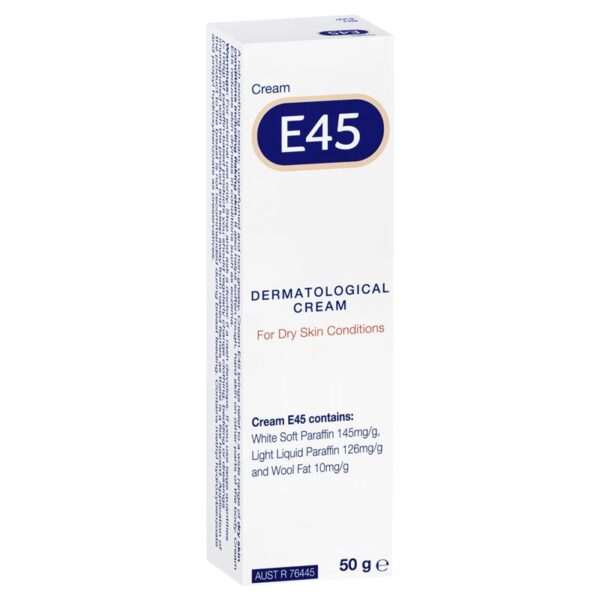 E45 Moisturising Cream 50G
₦3,400
E45 Moisturising Lotion is a light daily dry skin moisturiser that's perfect for everyday use all over the body, to keep your skin feeling soft, supple and hydrated. This moisturiser from the skincare experts at E45 is perfume-free, dermatologically tested and allergy-screened, so it's even suitable as a sensitive skin moisturiser. It's a light, easily-absorbed lotion which can be used on the body, face and hands to improve skin's health by correcting and preventing dry skin and other skin problems. E45 Moisturising Lotion contains Medilan™, a purified, hypoallergenic form of lanolin with excellent moisturising properties. It soothes, protects and cares for your skin.
Sorry, due to limited stock, E45 Moisturising Cream 50G is restricted to 3 per customer. This restriction would be lifted once we restock.
Out of stock
Description
APPLICATION Apply to the affected skin 2 or 3 times daily. INGREDIENTS   White Soft Paraffin Bp 14.5% W/W, Light Liquid Paraffin Ph Eur 12.6% W/W,Hypoallergenic Anhydrous Lanolin (Medilan R) 1.0% W/W,Also Contains: Glyceryl Monostearate, Citric Acid Monohydrate, Cetyl Alcohol, Sodium Hydroxide, Sodium Cetostearyl Sulphate,Carbomer, Methyl Hydroxybenzoate, Propyl Hydroxybenzoate, Purified Water
Additional Info
Reviews
Only logged in customers who have purchased this product may leave a review.