Sale!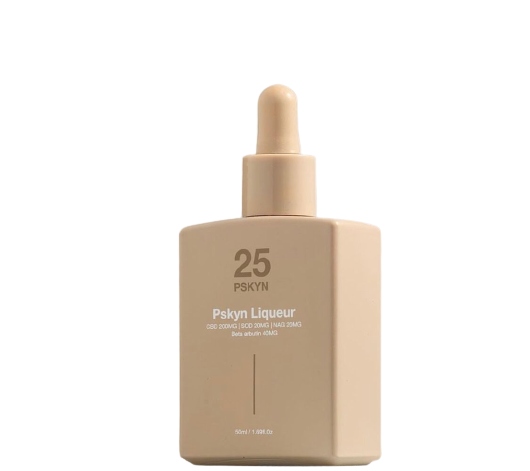 25Pskyn Liqueur 1.69fl oz / 50ml.
-15% OFF
Pskyn Liqueur is a special fusion of some of our favorite antioxidants, anti-inflammatory and anti-pigmentary ingredients melanged to create a potent epidermal reconditioning serum suitable for use in Normal to oily skin types.
Treats

Cellular Skin damage
Epidermal Hyperpigmentation
Signs of Pre-mature aging
Dull Complexion
Hyperkeratinisation
The toxic effects of free radicals
Sorry, due to limited stock, 25Pskyn Liqueur 1.69fl oz / 50ml. is restricted to 3 per customer. This restriction would be lifted once we restock.
In stock
Description
INGREDIENTS:
Aqua (water), Dimethyl isorsobide, (Hemp-Derived) Cannabidiol,
Niacinamide 5%, Beta-carotene 4%, Beta-arbutin 4%, Superoxide
Dismutase (Sod) 2%, N-Acetyl Glucosamine 2%, Mandelic acid
2%, Cyclopentasiloxane, Honey, Saccharide Isomerate, Sorbitol ,
Glycerin, Dipotassium Glycyrrhizate, Disodium EDTA, Carbomer,
Phenoxyethanol, Ethylhexylglycerin.
APPLICATION:
– After Washing your face, air dry for a few minutes.
– Apply 2-3 drops of Pskyn Liqueur on damp skin.
– Massage into your skin, focusing more on your area of concern.
– Use once daily and increase usage as your skin can tolerate.
– For Sensitive skin types, start usage only three times a week and increase usage as skin
tolerates.
Additional Info
Reviews
Only logged in customers who have purchased this product may leave a review.